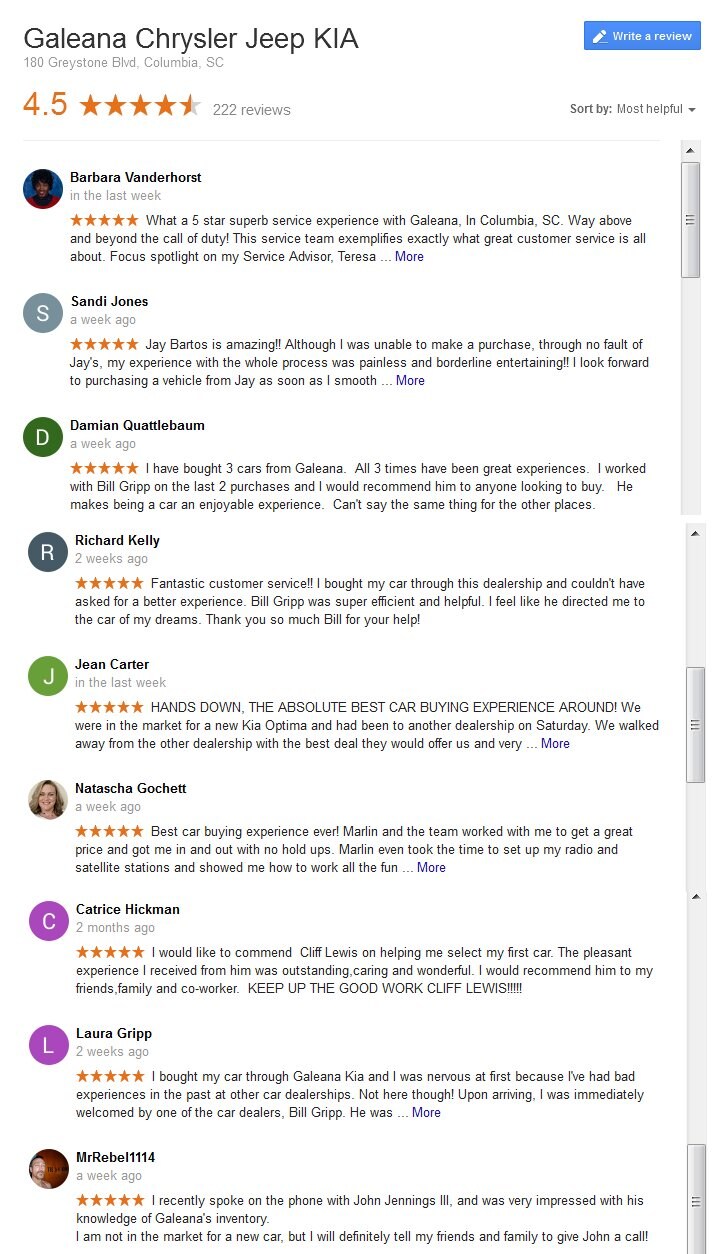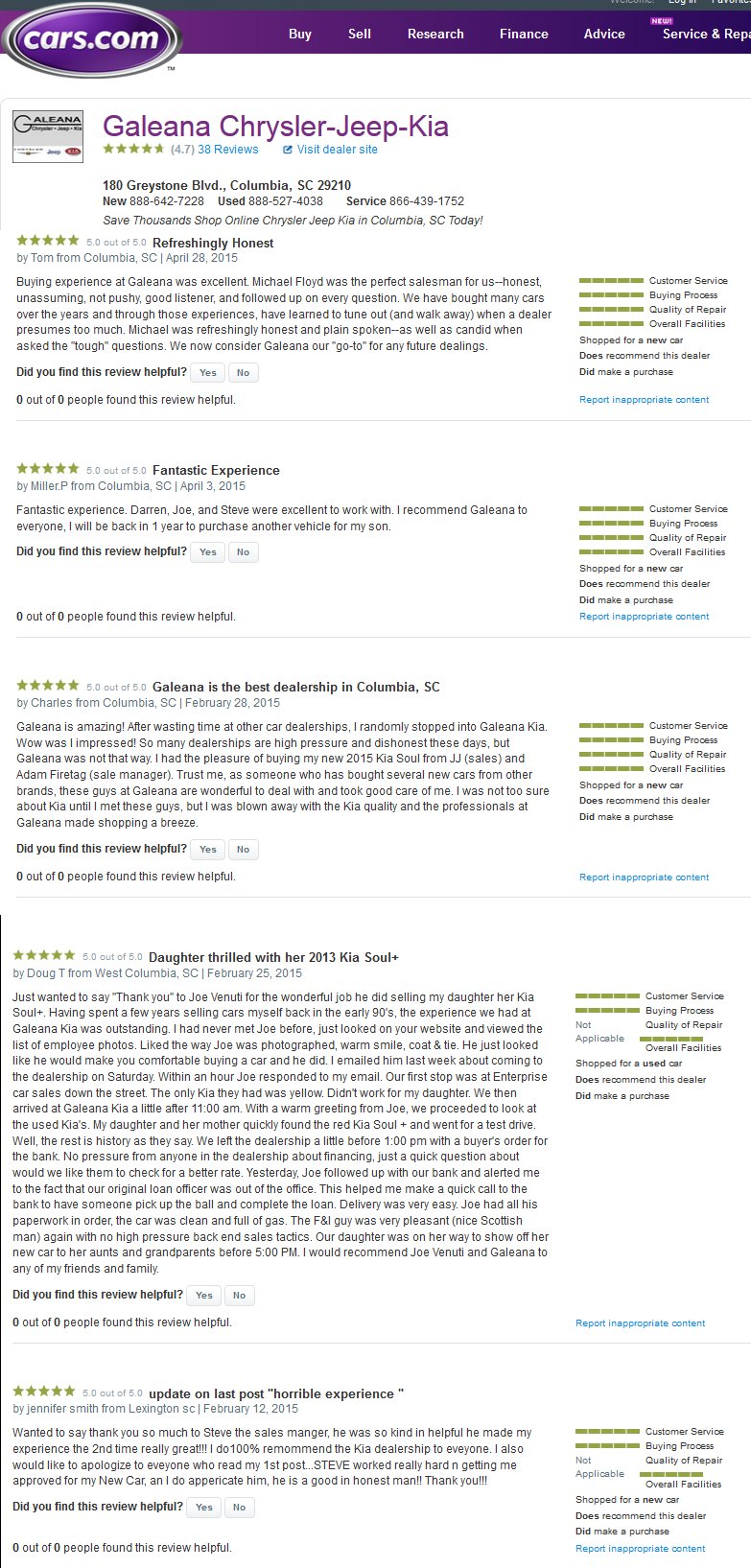 "I used the internet to contact Galena about a car I saw online and Mr. Nunn was who responded. He met us in the parking lot, somehow knowing who we were though never having met us before, and was most helpful. I had been looking to buy a 3rd car for my family and it was to be my 16 year old son's first car. I was not in a big hurry to buy a car and could easily have waited several more months looking for just the right car for my son. Galeana was not the first dealership I had been to during my search. In my experience, not many salespeople have the patience nor desire to deal with people wanting to buy cheaper, older used cars when the salesperson could be trying to sell a new car to someone else looking to spend more money. Mr. Nunn, gave us his full attention unlike many other salespeople I had dealt with prior to coming to Galeana. He stood in the sweltering heat with my family while we poured over several used cars until we ultimately chose the 2004 Toyota Corolla. He was worked diligently to find us a car we liked. He was very polite, helpful and especially knowledgeable. These are qualities I think all salespeople should have but have found it to be a rarity. I was impressed with Mr. Nunn and have recommended him to a few people since our purchase. I will be looking to buy a brand new vehicle for myself sometime next year and the first place I will look to will be Galena and Mr. Nunn." -Tonya
"My wife and I both enjoyed doing Bueisness with Galeana with the purchase of our Jeep. Stanley was very helpful and helped us like a true salesman should. Galeana is an example of what a car dealership should be, they we kind and courteous , not pushy , even the sales manager talked with us and not stay hidden behind a glass wall like most other dealerships. The finance dept and salesman even stayed after hours to get the deal closed. Thanks Galeana"

"The experience with Johnnie was wonderful. He has an awesome personality and was a pleasure to work with. He wasn't pushy and listen to my concerns and gave me excellent advice on hard tops verses soft tops. I also worked with gentleman named Joe and he was just as wonderful. Over all excellent!"
"Stanley was very courteous and kind. He always presented himself as a professional and as an excellent representative of Galeana Jeep, Kia. I was pleased to see that the whole Galeana operation is as good as the Kia dealership. My Jeep purchase was our second with Galeana and our third vehicle that has been maintained there. I am sure I will be coming back for more great service. Thank You,  James"


"The whole experience was excellent, it was the best car buying experience I have ever had and Val was amazing to work with.
Thanks again I love the jeep"
"Ingo was fantastic. This was the best car shopping experience my wife & I have had. Into was very honest and knowledgeable told us straight with no pressure. Excellent!!" - Brian
"Joe was really wonderful!"

"Our salesman, *Jeff Piassek, was great. He gave us a great deal on a 2013 Jeep Rubicon. We ordered the Jeep with the extras that we wanted and it came in on time as promised. a great deal and great service!" Martha & Charles


"Great Experience Thanks Jersey Jeff!"


"Truly a great experience an a wonderful surprise!. Joe Fulton gets all A's!" - Congratulations to the Wessingers!

"Excellent!! Best buying experience ever. Jersey Jeff showed me buying a car was EASY & PAINLESS! I will refer him to anyone!" - Yolanda